Home Page Curiosity Stazione Radioascolto Stazione Meteo Rad. Maritt. Altro ancora...
Sestante Davis Mk15

I sestanti prodotti dalla Davis sono tra i pių apprezzati sestanti di plastica in produzione. In particolare il modello Mk15 ha prestazioni che si avvicinano notevolmente ai pių costosi modelli in metallo. Costruito dalla californiana Davis Instruments č costituito da una struttura in materia plastica resistente al salino ed agli urti con un'ottica molto curata ed un nonio a tamburo di notevole precisione.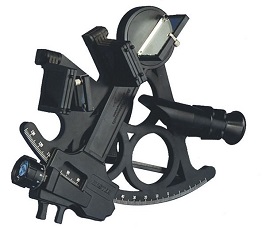 Ecco le caratteristiche (prima dell'unboxing "fotografico" del mio Mk15):
Large, easily adjusted mirrors using new instrument-quality glass and a special baked on salt-spray resistant backing. Both mirrors have protective housings.

Horizon mirror is half-silvered. No adjustment wrenches required.

Molded of high-impact, weather-resistant plastic. All Davis Master Sextants feature the following professional specifications: 7" (178 mm) frame radius. Graduation 120° to -5°

Index mirror rectangular, 1.98" x 1.49" (50 x 38 mm).

Precision machined slow travel gear and worm mechanism.

Highly visible, easy-to-read micrometer drum and vernier allowing readings to 2/10 minute of arc.

Fully ribbed, three-circle sextant body for platform strength and stability.

Large, contoured handle designed for sure, steady grip and angled back for added control.

Seven large sunshades allow complete, independent adjustment of shading density for horizon and index mirrors.

3 x 27 mm star telescope with anti-reflective coated glass lenses, plus separate hooded sight tube for glare-free sun shots.

Neck lanyard frees hand and protects sextant.

Tough, fully padded, shock-resisting carrying case with compartments for extra mirror kits.